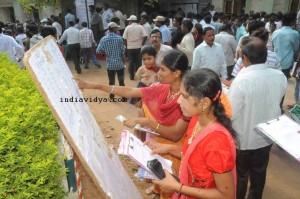 Here is the blue print and model question paper and pattern of examination for 10th Class / SSC Social Studies public examinations 2014 – 2015 as released by SCERT. The model question paper is as per the new syllabus prescribed for 10th Class by the Governments of Andhra Pradesh and Telangana.
The question paper is for 80 marks. In this, Economics and Geography will be for 40 marks, Civics and History will be for the remaining 40 marks.
Total paper for summative assessment is for 80 marks. This includes map pointing also. Time for each paper is 2 hours and 45 minutes. Students will be given an additional 15 minutes for the reading and understanding of the question paper.
Following is the blue print and model question paper of Social Studies subject. Students can download the question papers:
10th Class Social Studies Model Paper – As per New Syllabus 2014-15
Other Subjects Model Papers:
SSC Telugu Model Question Paper and Blue Print as per New Syllabus 2014-15
SSC Biology Model Question Paper as per New Syllabus 2014-15
10th Class Maths Model Paper and Blue Print – As per New Syllabus 2014-15
SSC Physical Sciences Model Question Paper in AP and Telangana as per New Syllabus 2014-15
10th Class Hindi Model Paper – As per New Syllabus 2014-15
SSC English New Syllabus Model Question Paper and Blue Print 2014-15