The question paper pattern for 10th Class / SSC students for public examinations from 2014-15 is going to be changed as per the new reforms initiated by the Government of Andhra Pradesh and Telangana. Here, we are giving Model question paper with blue print for Telugu Subject as prescribed by the SCERT.
The new examination question paper for Telugu will be for 80 marks. This is called summative assessment. 20 marks will be allotted for formative assessment, to be done by the class teacher throughout the academic year.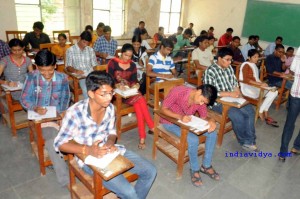 The question paper will be 1, 2, 4 marks questions along with some objective type multiple choice questions. It also includes questions from Grammar.
Following is the Telugu blue print and model question paper as per new syllabus 2014 – 2015:
SSC Telugu Model Question Paper and Blue Print as per New Syllabus 2014-15
Other Subjects Model Papers:
10th Class Social Studies Model Paper – As per New Syllabus 2014-15
SSC Biology Model Question Paper as per New Syllabus 2014-15
10th Class Maths Model Paper and Blue Print – As per New Syllabus 2014-15
SSC Physical Sciences Model Question Paper in AP and Telangana as per New Syllabus 2014-15
10th Class Hindi Model Paper – As per New Syllabus 2014-15
SSC English New Syllabus Model Question Paper and Blue Print 2014-15