There is huge competition for Panchayat Secretary posts in Andhra Pradesh. Lakhs of candidates have applied for Grade 5 Panchayat Secretary vacancies as part of AP Grama Sachivalayam / Ward Sachivalayam recruitment. The written exams for these posts are likely to be held in August 2020 as per the sources. Following are details of syllabus, online exams, mock tests and model papers.
AP Panchayat Secretary Model Papers:
We are providing model papers and online exams for Panchayat Secretary Grade 5 posts. The papers are prepared as per the syllabus of Part A and Part B as prescribed by the Department of Panchayat Raj, Government of Andhra Pradesh.
Features of Panchayat Secretary Online Exams:
Completely in Telugu Medium
Thousands of Objective Questions
Unlimited Practice – No Deactivation of Links
Mobile Friendly / Laptop / Desktop Friendly
Validity till the completion of Exams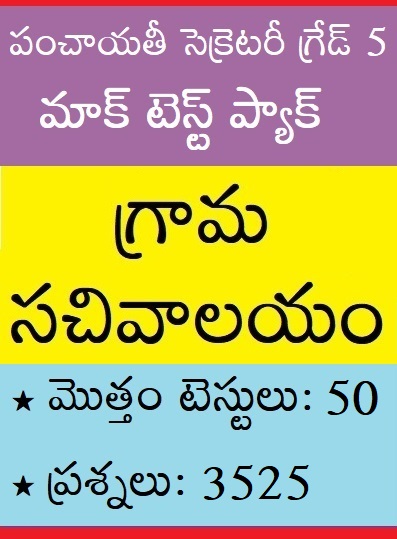 PART-A Syllabus Covered
GENERAL STUDIES AND MENTAL ABILITY
General Mental ability and reasoning.
Quantitative aptitude including data interpretation.
Comprehension – Telugu and English.
General English.
Basic Computer Knowledge.
Current affairs of regional, national and International importance.
General Science and its applications to the day to day life, Contemporary development in science and Technology and information Technology.
Sustainable Development and Environmental Protection.
PART-B Syllabus Covered
History and Culture of India with specific focus on AP.
Indian polity and governance: constitutional issues, 73/74th Amendments, public policy, reforms ad centre – state relations with specific reference to Andhra Pradesh.
Economy and Planning in India with emphasis on Andhra Pradesh.
Society, Social justice, rights issues.
Physical geography of Indian sub-continent and Andhra Pradesh.
Bifurcation of Andhra Pradesh and its Administrative, Economic, Social, Cultural, Political and legal implications / problems.
Key welfare & development schemes of Government of Andhra Pradesh.
Women empowerment and economic development through self help grounds /
community based organizations with focus on weaker sections.