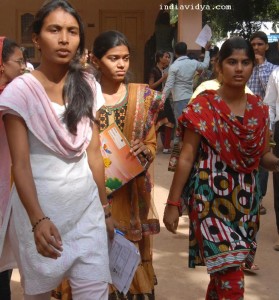 Following is the General Science Model Question Paper (Paper – 1) framed as per the new syllabus of 10th Class / SSC board of Telangana State and Andhra Pradesh. The question paper will be for 40 marks each for Physical Sciences and Biological Sciences. Following are details of the pattern of assessment and model question paper.
10th Class Maths New Syllabus Model Question Paper 1
Duration of the exam is 2-30 hours. Apart from this, another 15 minutes will be given for the reading and understanding of the question paper. Answers for all the questions except objective type questions should be written on the answer sheets only. Answers for objective multiple choice questions should be written on the space provided for the same.
Question paper consists of 4 marks, 2 marks, 1 mark and 1/2 mark questions. Answers to the 2 marks questions should be in 5-6 sentences. And answers to the 1 mark question should be in 1-2 sentences.
SSC English New Syllabus Model Question Paper and Blue Print 2014-15
There will be internal assessment for 20 marks. Candidates need not worry about this as there is no minimum pass mark for this assessment, as per the decision of the Telangana State Government. Following is the Biology (Paper – 1) model question paper:
10th Class General Science – Biology Model Paper