Dear candidates, Government of Andhra Pradesh will be conducting Grama Sachivalayam and Ward Sachivalayam exams soon. Candidates those applied and waiting for the next notifications should know the pattern of question papers and nature of questions asked in previous exams. AP Government has conducted the sachivalayam exams for the first time in 2019. The question papers and key (final official key) for all the exams are available on this portal.
Following are Sachivalayam Previous Papers Questions and Answers:
Ward Planning and Regulation Secretary Previous Paper
Panchayat Secretary Digital Assistants Previous Papers
Ward Education and Data Processing Secretary Previous Papers
Category 1 Exam Previous Papers (PS, Admin Secretary, Mahila Police and Education Assistants)
Sachivalayam Online Exams:
We have online exams, model papers and mock tests for Andhra Pradesh Grama Sachivalayam and Ward Sachivalayam examinations. The online exams are prepared by the subject experts and competitive exams specialists with decades of experience.
Category 1 Posts – Online Exams:
There are thousands of questions with 85 mock tests / online exams for category 1 posts. The exams are mobile friendly and you can practice any number of times. The links of online exams will remain active till the completion of recruitment tests by the Government.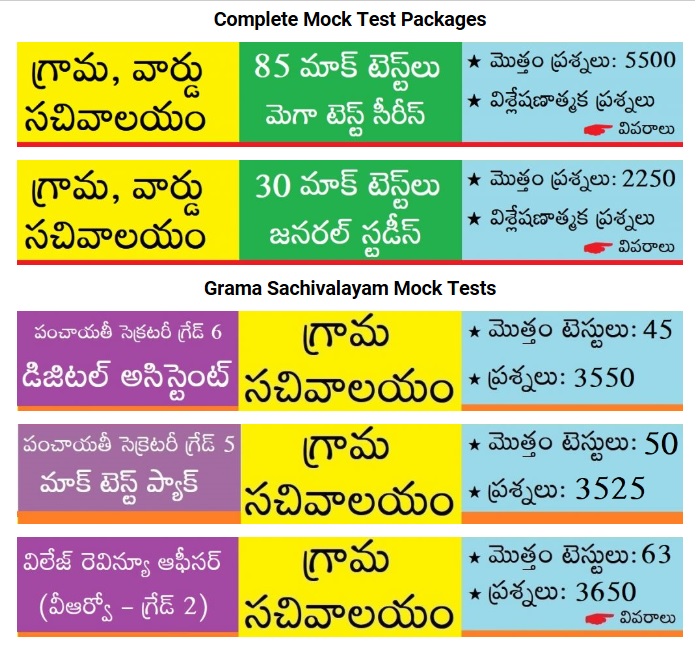 Part B and Part A Syllabus:
All the model papers and online exams includes topics from total syllabus prescribed for Part A and Part B sections of the question paper. Candidates can see the description of the exams for complete details and buy the package.