Following are the Cut Offs/ Last Ranks of Engineering Courses for various University Campus / Government and top ranked Private Engineering Colleges in Andhra Pradesh. These EAMCET 2011 last ranks are useful for the candidates going to appear for EAMCET 2012 admissions. Last ranks data is provided by the APSCHE for the convenience of EAMCET 2012 engineering and pharmacy aspirants.
Following information which is in table format will give you last ranks info on the cut offs for important engineering branches like ECE, CSE, EEE, Mechanical and Civil Engineering for different University Engineering Colleges and famous unaided private engineering colleges in and around Hyderabad. Cut Offs are provided for the following colleges in the above mentioned branches:
University Engineering Colleges:
1) OU College of Engineering, Hyderabad
2) JNTUH (Hyderabad)
3) JNTUK (Kakinada)
4) AU College of Engineering, Visakhapatnam
5) SVU College of Engineering, Tirupati
6) JNTUA, Anantapur
7) JNTU Hyderabad 5 Year Integrated M.Tech. (Self - Finance)
8) JNTU Hyderabad 5 Year Integrated MBA (Self - Finance)
Top Ranked Private Engineering Colleges in Hyderabad:
1) CBIT, Hyderabad
2) Vasavi Engineering College, Hyderabad
3) Srinidhi Institute of Science and Technology, Hyderabad
4) Vignana Jyothi Engineering College, Hyderabad
5) MVSR Engineering College, Hyderabad
6) G Narayanamma Institute of Technology for Women, Hyderabad
7) Gokaraju Rangaraju College of Engineering, Hyderabad.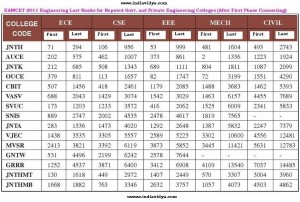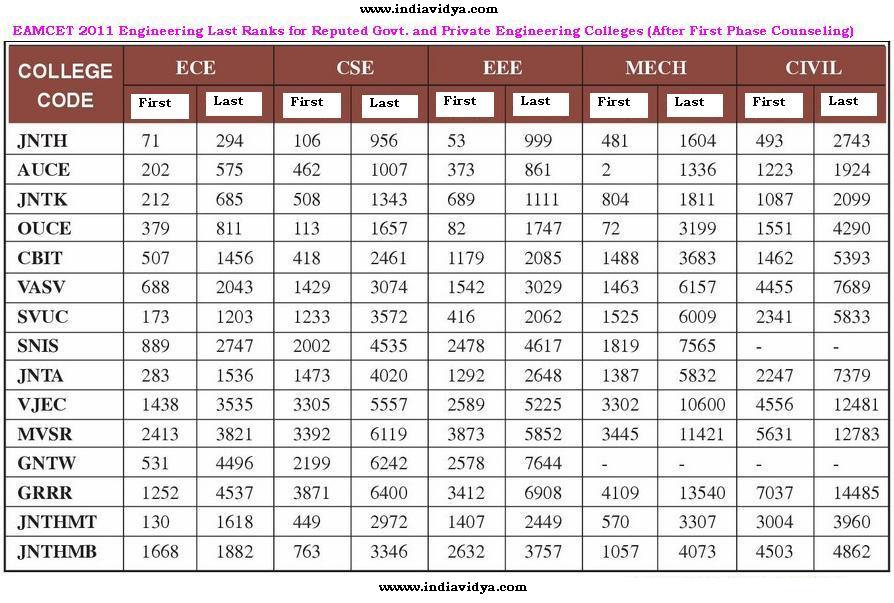 Eamcet 2011 Engineering Last Ranks - Cut Offs