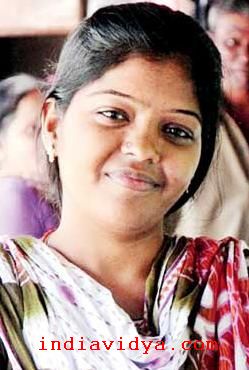 Prema Jayakumar of Mumbai has topped the CA examinations conducted by ICAI in November 2013 for which results were announced in January 2013. Prema Jayakumar's father is a auto - rickshaw driver and mother is a house-wife. Following is the brief profile / biodata of Prema Jayakumar:
1) Name: Prema Jayakumar
2) Achievement: Topper in all India Chartered Accountancy (CA) examination held in November 2012.
3) Family background: Father Jayakumar is a Mumbai based auto-rickshaw driver. His name is Jayakumar Perumal.
4) Residence: Staying in a one-room chawl in suburban Malad
5) Brothers and sisters: One brother. He also cleared CA.
6) Marks secured in CA: 607 / 800
7) Articleship for CA: Articleship with Kishore Seth and Company.
8) Education: Second Ranker in her B.Com Third year examinations conducted by Mumbai University. She secured 90 percent marks.
Prema Jayakumar's family originally hailed from Tamilnadu and settled in Mumbai for several years. Prema believes in hard work and says her parents motivated her to succeed in the prestigious CA examinations.
There is a galore of applauds and offers for Prema Jayakumar after her success in the CA exam. Indian Bank has offered a job with huge package. Several educational institutions offered awards along with the Govt. of Tamil Nadu.