EAMET 2012, an entrance exam for admission to Engineering, Medical and Agriculture courses in Andhra Pradesh has been held on 12th May 2012. See the initial key below. The Primary key of the EAMCET 2012 will be released on 13th May by the Government and will be displayed on www.apeamcet.org . Key will be provided by private education service providers like www.eenadupratibha.net, sakshieducation.com, eenadu.net, sakshi.com etc. Key for Engineering and Medical Papers of SET – A, SET – B, SET- C and SET – D will be available on these sites within hours after the completion of the exam.
EAMCET 2012 Engineering Question Paper – Download
See Engineering and Medical 2012 Key Below: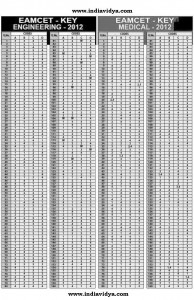 Coaching institutes like Sri Gayathri, Sri Chaitanya and Narayana Educational Institutions also provide EAMCET 2012 Key along with complete solutions. You can check websites of these institutes at srigayathri.com, srichaitanya.net, nriacademy.com, narayanagroup.com along with other education sites like schools9.com .
EAMCET Marks will be announced on 24th May 2012. It is observed that the Intermediate Improvement results will be announced on 22nd May 2012. The EAMCET 2012 authorities will have to wait till the Inter results are out, as there will be weightage for Inter marks in EAMCET rankings. EAMCET 2102 final ranks will be announced in the first or second week of June 2012.