Shodhganga is the reservoir of Ph.D theses submitted to various Indian universities in the country. There are about 1.5 lakh Ph.D these online available for reference for the researchers / teachers and those interested in academic reading. Theses from all the disciplines such as sciences, social sciences, humanities, management, engineering etc are available on the portal. Following is the step by step procedure to avail Ph.D theses of Social Sciences:
How to get Ph.D Theses of Social Sciences?
1) Log on to http://shodhganga.inflibnet.ac.in/
2) See the search box in the middle of home page. You can select Advanced Search / Subject Wise Search or can just type the researcher / thesis title etc if you know one.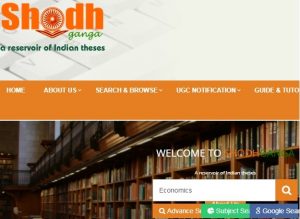 3) For example, if you type Economics, all theses on Economics will be displayed on another page. You can shortlist from there as well.
4) Under Search: You can type University name, subject to get the theses from that particular university. You can also add more filters like Title / topic / researcher to further shortlist the theses. For example, see theses from Jawaharlal Nehru University.
5) There displays all the Ph.D theses of Economics from Jawaharlal Nehru University. You can get the Ph.D thesis of your choice from there. You can download the PDF files and join them into a file.
6) You can get theses of any subject (political science, sociology, anthropology, history, etc) following the same procedure mentioned above.
Also Read: Search Shodhganga for all Ph.D Theses