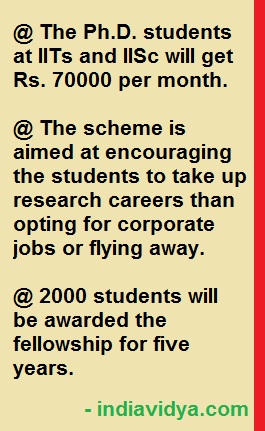 The Government of India has come out with a decent fellowship offer to encourage research in IITs and IISc. A research scholar of IIT or IISc will get a fellowship of Rs. 70000 per month during the term of the research.
Presently, research scholars in IITs will get Rs. 25,000 as monthly scholarship. The research fellowship has been hiked as part of Research Fellowship Scheme of Prime Minister Narendra Modi. The scheme is aimed at preventing the meritorious students leaving the country for purely financial reasons.
The total number of fellowships will be 2000 across the IIT system and IISc Bengaluru. The monthly fellowship will be given for a period of five years. The hike in research fellowship will encourage the students to go for further research than opting for corporate jobs after post graduation.
The scholarship recipients can't pursue any other job, as per the guidelines. The new fellowship scheme is likely to the commenced from the academic year 2018-19.