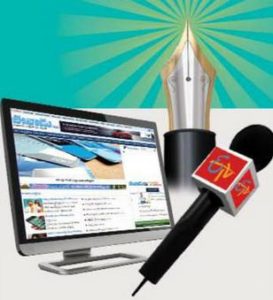 Eenadu Journalism School (EJS), Hyderabad (a part of Eenadu / Ramoji Group) has released notification for admission into Post Graduate Diploma in Journalism for the academic year 2016- 2017. The PG Diploma course is offered in multi media and television streams. The selection will be based on the performance of the candidates in written exams and personal interviews. The details of eligibility, employment, training and application procedure are given below:
Eligibility Requirements: Candidates should have fluency in writing Telugu. They must have good knowledge of current affairs and general knowledge. Graduation in any discipline is the minimum educational qualification. Age should be less than 28 years as on 1st January 2017.
Selection procedure: The selection process consists of written tests and group discussions along with personal interviews. The written tests consists of questions to test English and Telugu language efficiency, translation skills, and knowledge of current affairs.
Eenadu Journalism School Model Paper - Multi Media Stream
Eenadu Journalism School - TV Stream Model Paper
EJS Eenadu Model Paper with Answers
Eenadu Journalism School Model Papers - Print Stream
The written exams will be held in all Eenadu district branches / head offices across the states of Andhra Pradesh and Telangana. Only shortlisted candidates will be called for group discussions and personal interviews.
Training and Employment: Selected candidates will have to undergo training for an year and those completed the training will be absorbed as trainees in the Ramoji group of companies.
Stipend and Salary: Candidates will get Rs. 12000 per month during training period for the first six months. The stipend will be Rs. 14000 per month for the latter six months. The candidates will be offered Rs. 16000 per month for an year after appointment, Rs. 18000 during probation and Rs. 20000 after confirmation in the employment.
Application procedure: Interested candidates can apply online only through the website www.eenadu.net OR www.eenadupratibha.net . The online applications will be active on the websites from 26 October 2016 onwards. Candidates need to pay Rs. 200 as application fee in the form of DD drawn in favour of Ushodaya Enterprises Private Limited, payable at Hyderabad. Printed application form along with DD should be sent to the following address:
Address: The Principal, Eenadu Journalism School, Ramoji Film City, Hyderabad - 501512.
Important Dates:
1) Last date for the submission of online applications: 10 November 2016
2) Written Exams: 20 November 2016
3) Group Discussions and Personal Interviews: 5th December 2016 onward
4) Commencement of courses: 26th December 2016
Candidates who joined in the PG Diploma course of Eenadu Journalism School (EJS) have to sign a bond at the time of admissions accepting minimum compulsory three years service in the Ramoji Group of Companies.