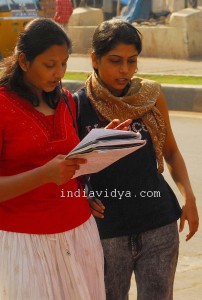 University of Hyderabad has advanced its admission schedule from the academic year 2013-14. The University has announced that the entrance examinations for the next academic session will be held in February 2013 instead of May - June 2013. Following are the important dates for HCU Admissions for the year 2013-14, as announced by its Vice Chancellor, Ramakrishna Ramaswami.
1) Commencement of sale of applications: 21st December 2012
2) Last date for the sale and submission of filled in applications: 21st January 2013
3) Schedule of Entrance exams: 21- 26 February 2013
4) Download of hall tickets: Up to 14th February 2013
New Courses: The Hyderabad Central University is introducing Master of Public Health (MPH) and 5 Year Integrated Course from the academic year 2013-14.
The applications forms can be downloaded from the websites of the university at www.uohyd.ac.in or www.uohyd.ernet.in . Model papers and previous question papers of the University may also available on the website.