Prestigious Engineering and Medical Entrance Exam in Andhra Pradesh, EAMCET 2011 has been conducted across the state on 22nd May 2011. EAMCET 2011 Key / Solutions / Answers for Engineering and Medical streams for SET - A, SET - B, SET - C and SET - D question papers are available below.
EAMCET 2011 Engineering Key (Click image for bigger view):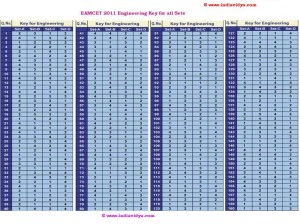 EAMCET 2011 Medical Key (Click the image for bigger view):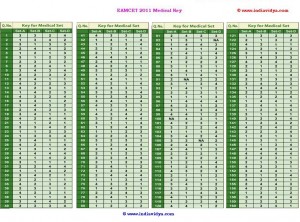 EAMCET 2011 Key will be also available on the websites of famous coaching institutes like Sri Gayatri Academy (www.srigayatri.com), Sri Chaitanya Education Institutions (www.srichaitanya.net), Narayana Coaching Center (www.narayanagroup.com) and NRI Institutions (www.nriacademy.com). Eamcet 2011 Engineering Key and Eamcet 2011 Medicine Key will also be available on the media websites like www.eenadu.net / www.manabadi.com / www.sakshieducation.com / sakshi.com / www.schools9.com and official EAMCET website www.apeamcet.org / www.apsche.org.
The authorities have declared that Results of EAMCET 2011 will be announced during first / second week of June 2011. According to the latest information, EAMCET 2011 Results for Engineering and Medical stream will be announced between 9 - 11 AM on June 16, 2011. EAMCET 2011 Online Web Counseling Schedule for 2011 also will be released on the same date.