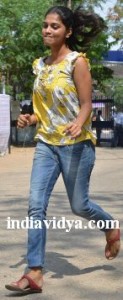 Board of Intermediate Education, Government of Andhra Pradesh (BIEAP) has issued revised time table for IPE March 2016 examinations of Junior and Senior Intermediate. The practical examinations for Senior Intermediate will be conducted from 4th February to 24th February 2016.
Theory examinations will be held from 2nd March 2016 to 21st March 2016 from 9 AM to 12 Noon. I Year examinations will start from 2nd March and end on 19th March 2016.
Second year IPE examinations will start on 3rd March 2016 and will close on 21st March 2016. The Ethics and Human Values education exams will be held on 27th January 2016 and Environmental Education exams will be held on 30th January 2016.
Following is the revised schedule of Intermediate Public Examinations in Andhra Pradesh as released by the Board of Intermediate Education:
AP Intermediate Exams - March 2016 Revised Time Table