Students who have completed their Intermediate / 12th Class successfully in Commerce stream have ample choices to make a bright career (See Graph below). The high profile career path for a commerce student would be by pursuing high profile professional courses such as Chartered Accountancy, Cost Accountancy, Company Secretary or Financial Analyst. In these professional courses, one can either choose to practice independently or join a large corporation with attractive pay package. There is shortage for these professionals and hence lucrative employment is certain.
The other attractive option is go for a degree program. One of the most obvious choices available to a student is to pursue B.Com. Degree and thereafter work as accountants. But those who pursue B.Com (Honors) or B.Com (Computers) stand a better chance compared to vanilla B.Com. program. Students with this qualification can aspire to earn better and reach senior level positions faster.
Following graph can give a better understanding of career choices after 12th Commerce: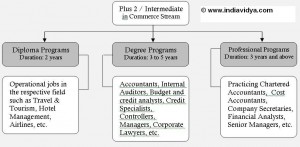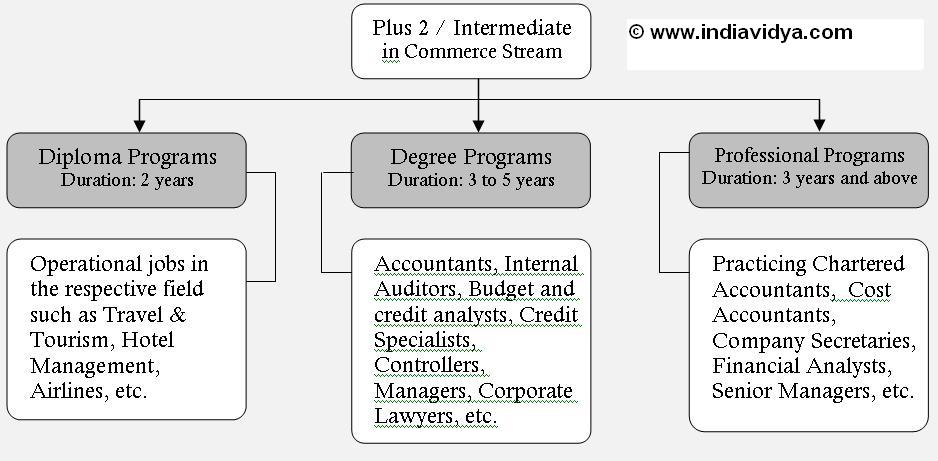 There are many obvious choices for commerce students. The popular choice being pursuing B.Com. Program. However the most attractive options are Chartered and Cost Accouontancy, Company Secretaryship and Financial Analyst. Those who want to reach top positions and would like to get involved in high level decision making should pursue these programs. Market oriented programs are B.Com (Hons), BBA, Intergrated BBA-LLB Programs. MBA degree after these programs would put you into a different league. For those who want to make a living too should be able to secure a job in one of the top companies and lead a happy life.
For the hardworking and intelligent student moving away from Engineering and Medicine and pursuing commerce courses is like exploring an unexplored path. But the opportunities are promising and success is within the reach. This road less travelled and encash the golden opportunities enroute.