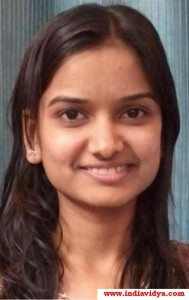 Roohi Agarwal is an all India topper in CA Final Examinations 2011 for which results were announced recently. She has shared her preparation strategy and experiences with www.indiavidya.com for the benefit of aspiring Chartered Accountants. Roohi Agarwal suggested CA candidates not to get disappointed with small mistakes in the preparation and in the examinations. Following is the interview of Roohi Agarwal:

1) Question: Congratulations Roohi ! Let us start with your education and family background..
Answer: My native place is Delhi. I completed my education till 12th in Delhi (CBSE syllabus). In 12th I was Delhi topper with 96.6 percent marks. My subjects in 10+2 were Economics, Maths, Accountancy and Business Studies. After that I gave my entrance exam for CA i.e in Delhi in June 2008 in which I got All India 5th Rank. I prepared for 2 months for CPT.
Then my family shifted to hyderabad and I joined for artilceship training in Hyderabad and simultaneously went for coaching for PCC Exam. My attempt for PCC exam was in May 2010 in which i secured all india 20th rank. after dat i started preparation for Final Exam and gave attempt in Nov 2011.
2) Question: How did you prepare for the CA examinations?
Answer: My preparation strategy was listening with full concentration in classes to the teacher and understanding the concepts instead of mugging up. When u study any subject by knowing what, when , how and specially "why" of a particular topic, it develops your interest in the subject. Try to apply whatever u study in real life. This nullifies the chances of forgetting and enables u to answer any type of question asked in the exam. I used to revise every day after comin from office whatever i studied in the class..so around 5-6 hrs of study including class time for around 8 - 10 months. Then during preparation leave, i focussed on regular revisions and following the same book. I made a proper plan to divide my time into difficult and easy topics and important and less important ones.
3) What is your suggestions to the aspirants of CA career?
Answer: The main mistakes are getting disappointed with a few things you are not able to do properly. I wud suggest that u shuld find out which things you are good at and practice them more and be perfect with that. After that with the available time, try to find out solutions for difficult topics. So dat gud marks in positive areas can cover up less marks in others. Studying can be done with articleship if u manage ur time properly.
4) How much time did you spend for the preparation at the time of exams?
Answer: During exam time, I used to study for 14-15 hours. I took coaching from spellbound at Malkajgiri (Hyderabad), Shastry sir and Wizard Coaching Center at Nallakunta (Hyderabad). Mostly I followed the coaching material itself. The major books are for Isca - ICAI study material, for DT - Vinod Kumar Gupta or Manoharan and for IDT - Bangar
5) What kind of attitude students should have to succeed in CA exams?
Answer: Interest in the subject, goal orientedness, conceptual learning, lot of motivation and passion for doing CA and all this resulting into Hard Work. CA as a career option is very good as you learn time management and self discipline, communication skills and most importantly the exposure you get in articleship training helps you to develop many qualities and knowledge about the corporate world and how various organisations are managed.
6) Your message to the CA candidates?
Answer: Dream it, Do it, Enjoy it !!!